I can't believe it is over a year since the relaunch of The Blue Nib in its current format. In many respects it has been a short journey from there to here, and in others it has been a massive one.
It was wonderful to receive recognition in our first months, to be long-listed in the Best Magazine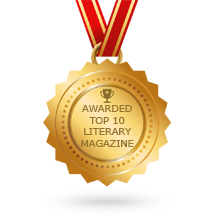 category for the coveted Saboteur Awards in April, and then voted a top ten Literary magazine by Feedspot in this past month is gratifying. But this is all eclipsed by the journey and the exceptional writers we have met over the past 12 months. It has been a privilege to showcase the work of many established poets and in particular, it is a thrill to provide a stage for those emerging poets who demand our attention. 
So, to this end, the magazine will morph into something different. This will be our last 'online only' issue and will be the last release until Mid September.
On our return, we will be at a new home thebluenib.com (Don't worry we will provide redirects from this site so you will still find us). 
Our next issue, scheduled for 15th September 2018 (new issues will appear quarterly thereafter) will be available online to subscribers and will also be available in print format to those wishing to purchase single copies or subscribe to the print version. The new format site will continue to feature exceptional poetry and will now also include literary fiction, essays and opinion pieces. The cost of subscription will change only a little and all of those with a current membership will still have full access to the new site for the life of their subscription.
For those who cannot afford to subscribe, don't worry we will still offer plenty of free content. Our archive (over 1000 pieces of work) will be made available on site. We will also offer news, features and new material will appear regularly.
Those who submit to the magazine need NOT be paid-subscribers, however, to protect their copyright and byline we ask you to register as free members. Submissions are still open on this site and will remain open until mid-September, any work submitted will be considered for our first print issue. 
To stay abreast of changes and get notification of submission deadlines, new issue releases and special offers we suggest signing up to the magazine newsletter now.